Recreational Gymnastics Manager
MAGA & NGA Competitive Coach
Levels 1-3 NGA Competitive Coach
Shannon grew up at Northfield gymnastics as a young gymnast.  She has coached competitive gymnastics for over 8 years and LOVES being in her home gym.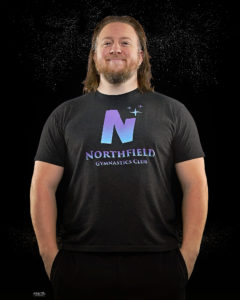 MAGA Program Director & Head Coach
My name is Mark Morphew and I have been coaching gymnastics since 2005. I started out in Worthington Minnesota coaching community education classes along with MAGA teams and the High School team. Since then I haven't stopped. I spent several years in Mankato coaching at both MAGS and K&G Gymnastics all the while coaching Mankato West High School. I have been lucky enough since that time to be coaching full time at New Prague and now at NGC. My coaching philosophy is athlete first. I believe in transformative not transactional coaching and do whatever I can to advocate for my athletes in and out of the gym. I love watching my athletes grow as people and hope I can contribute to their overall wellbeing and success in life!
Northfield Gymanstics Club Director
NGA Program Director & Head Coach
 I have been coaching gymnastics for over 10 years, been a director for 6 and a judge for 5.  I am a Women's Meet Director, Red Cross Instructor and have an associate's degree in EMS.  My coaching philosophy is to develop community citizens that are positive, responsible, and able to work in a team environment to complete goals.  By instilling a work ethic that allows them to be successful in sports, school and their communities.  I truly believe in coaching athletes "beyond the backflip" and helping them to realize their potential both in and out of the gym.  I look forward to meeting all of you and encourage you to say hi if we run into each other at the gym!
Levels 2-3 NGA Competitive Coach
I have grown up in a gymnastics gym and although I occasionally tried other sports, I've always come back to the gym.  I've always wanted to be a coach and watch younger athletes complete skills that I helped them learned.  I am a sophomore in high school and plan on going on majoring in cosmetology and business when I move onto college.
Hello! My name is Katya (caught-tee-ah). I competed in High school gymnastics at Northfield Gymnastics Club in 2004 and have stayed in gym and fitness ever since. I'm a mommy to a 6 year old son & 6 year old step daughter and love kids of all ages! I love to do flips, art, pottery, fitness & yoga, and spend time with family.
Levels 2-3 NGA Competitive Coach